International Percussion will present a Ugandan musician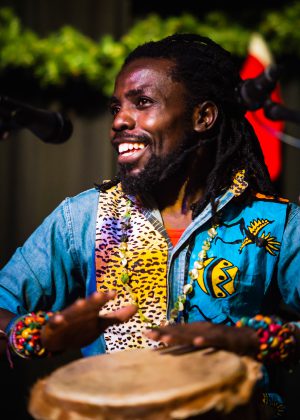 Take a break from the last week of winter classes with an international percussion ensemble concert.
The performance will take place on Wednesday, March 9 at 7 p.m. at the Dalton Theatre, Light Fine Arts Building. Tickets are $5 for adults, $2 for children, and free for kindergarten students. The ensemble will feature East African and taiko drumming as well as instructor and guest percussionist Samuel Nalangira.
Hailing from Uganda, East Africa, Nalangira is a folk/world musician, dancer and choreographer, according to his website. He has been performing since childhood and teaching since he was 15 years old. Nalangira has performed and led workshops at universities, schools, community centers and festivals across the United States, Canada, Asia and Europe.
Wednesday's performance will include new ensemble pieces and Ugandan Nalangira arrangements of traditional drum songs.
Masks and proof of vaccination required. For more information about this and other Department of Music events, visit music.kzoo.edu/events.