Blues musician Shawn Amos turns to books | Arts and events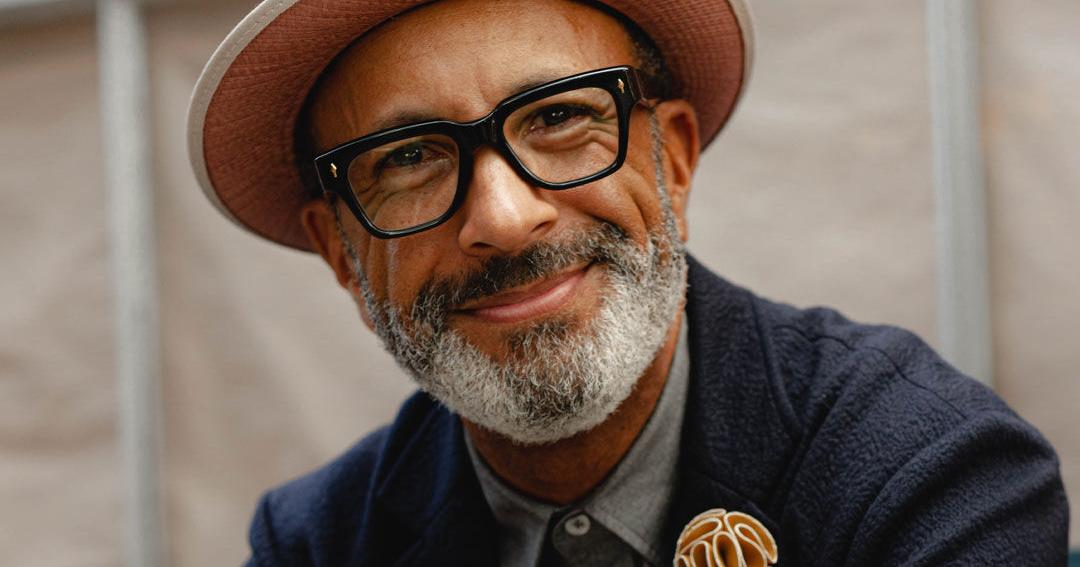 Rrespecting family heritage is often a difficult process.
This has been especially true for blues musician Shawn Amos.
Musically known as "The Reverend" Shawn Amos, he attempted to reconcile his troubled family history throughout his creative career via his moving 2005 album "Thank You Shirl-ee May" (inspired by his mother, two years after his suicide) and songs like 2015's "Hollywood Blues". The latter provided the title for his recently released compilation "Hollywood Blues: Songs and Stories from the Family Tree (1997-2022)".
"In a weird way," Amos said, the song is "almost a draft" of his new book "Cookies & Milk," a warm, witty novel published in May by Little, Brown.
That Amos romanticized his rocky upbringing as the son of Wally "Famous" Amos, a flashy talent agent turned chocolate chip cookie entrepreneur, and Shirley Ellis, a mentally ill former nightclub singer, is no surprise. That he wrote it for middle-aged kids is.
"Your first job is to get college kids excited to read," he said, describing the challenge of writing for young adults. "You make them want to turn the page. These are usually the first full-length novels a child will read, (and) also the first book they buy on their own instead of having bought for themselves. So I took it seriously.
"Also, there was a catharsis that was happening to me, and it was personal."
Like many children's books, "Cookies & Milk" is rooted in complex themes. Amos explored these in more detail in "Cookies & Milk: Scenes from a '70s Hollywood Childhood," a four-part essay series published on Huffington Post in 2011 that was chosen for a possible stage play or a film that was never made. Looking back on how his story unexpectedly turned into a children's novel, Amos said he was surprised to find that fiction made it easier for him to embrace deeper truths.
"It was kind of everyone's story, but kind of mine," he explained, referring to his Huffington Post essays.
"I talked about my dad, I talked about my mom, their experience of moving to Hollywood and how they sat in that line of black excellence. But I really didn't sign up for it. Writing myself as a character in my own story was the piece I was missing before, and frankly the piece I didn't have the guts to do in an adult book. But in the context of a mid-level book, I found it easier to write myself into my own story and tell a happy chapter (which is part) of a larger story.
Now based in Texas, where he moved after his divorce several years ago to be closer to his children, he began to contemplate "generational patterns" within his own family and, more broadly, "within the 'black male experience'.
He thought of the Famous Amos biscuit factory his father had started in the mid-1970s, and how the openness they shared there was "a real silver lining in a not-so-bright childhood. ", thanks to his mother's health and the financial difficulties that forced Wally Amos to sell his Famous Amos cookie company in the 1980s.
"A lot of the pain and darkness that was part of this Huffington Post series was really missing in the context of being in this store," Amos reflected.
He wrote the book's treatment "in a whirlwind" two years ago when COVID-19 was beginning to spread. In the summer of 2020, the country was rocked by social justice protests sparked by the murder of George Floyd and studios began calling for "more black-centric content". Laurence Fishburne's production company recently announced a deal with Disney to develop "Cookies & Milk" into an animated series.
"Cookies & Milk" is quietly set in the cracked basements of 1970s Hollywood, and told with clever sass by Amos' alter ego, 11-year-old aspiring harmonica player Ellis Johnson (named after the real life of Amos Jr), shortly after his parents' divorce.
His mother left him for the summer with his father, an infuriating Willy Wonka character in Ellis' eyes ("If Willy Wonka was tall, skinny, black, and had a salt-and-pepper beard") whom Rambler senses brown sugar and cocoa, thanks to the crumpled paper bags of homemade cookies he hands out to Ellis and his friends. (Ellis admiringly confides to the reader, "I could eat his cookies and nothing else.")
Music from Sly and the Family Stone, Funkadelic, Howlin' Wolf, the Jackson 5 and especially Muddy Waters beats hopefully in the background as they rush to open the shop in an empty A-frame littered with cigarette butts , peeling paint and pigeon poo roof. Sweet cookies and a multiracial tribe of friends balance a surreal encounter with a racist drunk and Ellis' uncertainty about his family and his future.
The cast of living characters includes Ellis' grandmother Ruby, "a mean old woman" in real life, Amos said, who was also fiercely protective and her "only connection" to her black Southern roots.
"She was from Tallahassee. She was the only person I've ever known and seen like her, just her energy and her being, she said. 'Cause everything else was disconnected [when] my parents moved to Southern California and they did their best to get back together, like most people do when they move to Los Angeles. … This idea of ​​reinvention is really apparent in the character of Ellis, who really wants to reinvent himself. Ruby was my demonstration of Blackness in a world I didn't have much to see.
Amos said a scene was cut from an early draft in which Ellis spied vintage family photos in the dining room of his best friend Alex's house – white ancestors dressed in Puritan clothes, framed in a display mural that looks as fantastic as a museum. Ellis never had anything like it. Neither does Amos.
"I learned a lot about my history through the blues," Amos said. "That's why I play the blues. Playing the blues was the first time I really felt connected to my story in any way.
In the book, which Amos called "a love letter to music," Ellis also feels a primal connection as he learns to become familiar with the harmonica.
"The harmonica is like an orchestra in your pocket," he marvels at the reader, and his embodiment of the joy of making music provides some of the most joyous passages in the book. Amos plans to bring his guitar to his reading at Vroman Bookstore on Saturday morning.
"I would like to find a way to bring together the narrative that the book represents and my songs," he says. "Travelling with my acoustic guitar, which I haven't done in years, and playing a song in those bookstores after reading a chapter of the book is really helpful. It helps me come up with ideas.
Blues musician Shawn Amos talks about "Cookies & Milk"
WHEN: 11 a.m. Saturday June 25
WHERE: Vroman Paseo Bookstore, 695 E. Colorado Boulevard, Pasadena
COST: FREE ENTRANCE; masks are strongly encouraged
INFORMATION: 626-449-5320, shawnamos.com, vromansbookstore.com