Deja Vu players reunite for weekend chamber music performance | Latitude 65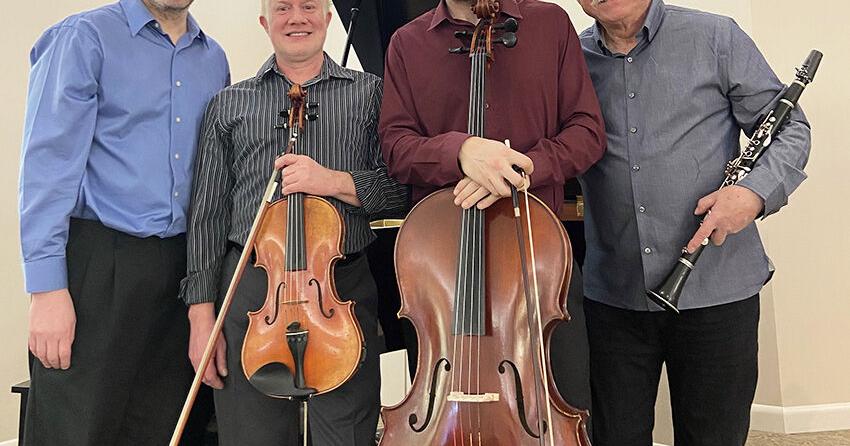 The Deja Vu Players return after a long hiatus to bring Fairbanks a chamber music concert at 3 p.m. on Sunday, April 10 at First Church-Christ Scientist, 811 First Ave.
Deja Vu Players are musicians who have played together in the distant and not so distant past and who band together for performances when possible. Players for this event include Charly Akert, cello; Ted DeCorso, clarinet; Paul Krejci, piano; and Thom McLean, violin and viola. They will present compositions by Darius Milhaud, Max Bruch, Johannes Brahms and Astor Piazzolla. Admission is free but donations are welcome.
Clarinetist Ted DeCorso is Professor Emeritus at the University of Alaska Fairbanks where he taught wind instruments from 1974 to 1999. During this time he performed as a chamber and solo clarinetist in Europe, China , in New York, in the North-West of the United States, in Hawaii and at the international clarinet congresses in London and Seattle. He has been a concerto soloist in Fairbanks, Honolulu, Florida, Kentucky, China and with the Arctic Chamber Orchestra in over 40 communities across Alaska. He was director of the music department for many years, conducted the Fairbanks Youth Orchestra, and ran the UAF Fine Arts Summer Camp for 20 years. Ted and his wife, Kay, now split their time between Fairbanks and Dunedin, Florida, where he conducted the Suncoast Symphony Orchestra, the Clearwater Band, and taught and performed as an adjunct clarinet professor at the University of Tampa. .
Thom McLean grew up in Fairbanks and is deeply grateful for the musical opportunities the community provided growing up here. During his high school years, he was fortunate enough to study for two summers at Tanglewood, the summer home of the Boston Symphony. After some schooling at the University of Alaska Fairbanks, Thom became a wandering traveler for a few years and, while working as a bartender in Yellowstone National Park, decided to go back to school. He transferred to Rice University and studied at the Shepherd School of Music and also majored in neuroscience. He performed for many years with the Fairbanks, Anchorage and Juneau symphonies. One of his greatest joys is still being able to play music with great friends. He has been a violin and viola teacher for 25 years.
Born in Alaska to Swiss parents, Charly Akert's introduction to the cello began at the age of 5. Since then he has had a varied career as a soloist, chamber musician, recording artist and rock star. His performances have ranged from Carnegie Hall to NPR's Tiny Desk Concerts. After earning degrees at the University of Northern Colorado and the San Francisco Conservatory of Music, he earned residencies at the Banff Center, Aspen Music Festival, and Carnegie Mellon University. In 2011, he won first prize in the Plowman Nation Chamber Music competition as a member of the Nexus String Quartet. As a principal cello and chamber music teacher, Charly has been a guest teacher at the Kinhaven School of Music, the Blue Lake Festival and the Fairbanks Summer Arts Festival. He is a regular guest artist and principal member of the Trinity Alps Chamber Music Festival. Charly recently returned to his hometown of Fairbanks where he teaches cello and pursues a career as a Bush pilot.
Dr. Paul Krejci is an independent researcher, piano teacher and musician. Born and raised in Fairbanks, he studied classical piano with Dr. James Johnson and Karen Johnson. Paul has performed as a solo and collaborative pianist throughout Alaska as well as Italy, Austria, Japan, China and Australia. A former temporary professor and adjunct instructor at the University of Alaska Fairbanks, he has taught a wide range of undergraduate and graduate courses in music and the humanities. Paul also worked for many years in the community as a piano accompanist for high school and college students and local choirs. He devotes his school time to music history and performance projects covering a wide range of topics such as ragtime and medieval keyboard works, the music of commercial whalers and explorers in the polar regions, as well as the music of northern indigenous peoples and more recent settlers. of Alaska and neighboring regions. Paul is also active as a keyboardist, organist, amateur accordionist and session musician. He has performed, composed and arranged for local bands as well as television, film and exhibitions. In 2004, he was the winner of the Alaska Public Radio Network's Song of the Year in the instrumental category. Finally, Paul volunteers as Vice Chairman of the Board and Chairman of Artist Selection for the Fairbanks Concert Association. He is currently researching and writing a historical account of the arts organization's first 75 years with a book release scheduled for next year.
"Suite for violin, clarinet and piano, op. 157b" (1936)
Darius Milhaud (1892-1974)
IV. Introduction and finale
"Eight pieces for clarinet, viola and piano, op. 83″ (1910)
VII. Allegro vivace, ma non troppo
"Trio for piano, clarinet and cello, op. 114" (1891)
Johannes Brahms (1833-1897)
"Oblivion" arranged for violin, cello and piano" (1984)
Astor Piazzola (1921-1992)
Arr. Jose Bragato (1915-2017)