Downtown Dublin musician Ciarán Moran announces Whelan's flagship show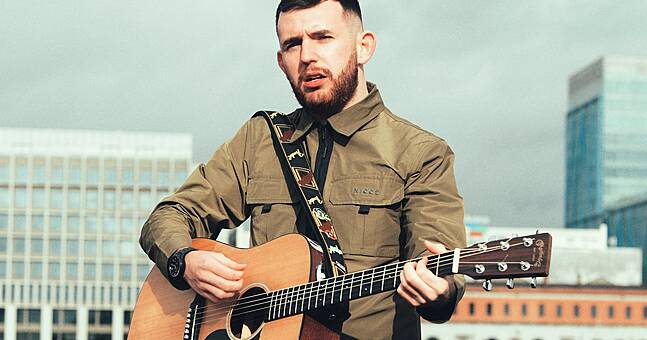 Moran's planned main show at Whelan's will celebrate his upcoming EP, Downtown life.
Hailing from Dublin's North City Centre, Ciarán Moran has steadily risen through the ranks of the country's music scene. Today, the singer-songwriter announced a Whelan show on April 29 to mark his new upcoming project, with tickets on sale now.
The venue has hosted icons like Glen Hansard, Ed Sheeran and Nick Cave for the past 70 years. Moran will now take to the stage in hopes of continuing his musical journey. Since picking up a guitar, Ciarán has been mentored by the likes of Christy Moore and Roddy Doyle, and has built up a sizable following supporting Aslan, Brian Kennedy and Bagatelle.
Having previously toured with Damien Dempsey and Maverick Saber, Moran is no stranger to being in the spotlight. His musical aspirations began at a very young age. His talent for writing melodies paired with topical lyrics about his community was evident even as a teenager.
Moran's drive to write songs, which Christy Moore says "very few will ever write or sing", has allowed her to explore the darker side of societal issues with references to drug addiction, domestic violence and roaming. 2020's single "Falling Down" encompasses a number of issues affecting those who start out at a disadvantage. It tells the story of the loss of a model experienced by the narrator and an environment filled with alcohol and drugs, a sad reflection of what is so prolific in today's society.
Not shy about adding eerie hip hop beats and melodies, his 2019 solo headliner on the Dublin Underground was sold out, and he also took the lead when featured on stages too. important than the Olympia and Vicar St.
Listeners are in store for more thoughts on his growth north of the capital when his new EP Downtown life is released later this year.
For now, Moran fans can enjoy his April 29 show at Whelan's Bar where he will be joined by pianist David Mahady and bassist Adam Grogan.
Tickets available here for €10.
Listen to Moran's latest version of "A Father Figured" below.