Forever Touched: Musician and Wilmington alum thanks Peters for changing his life | New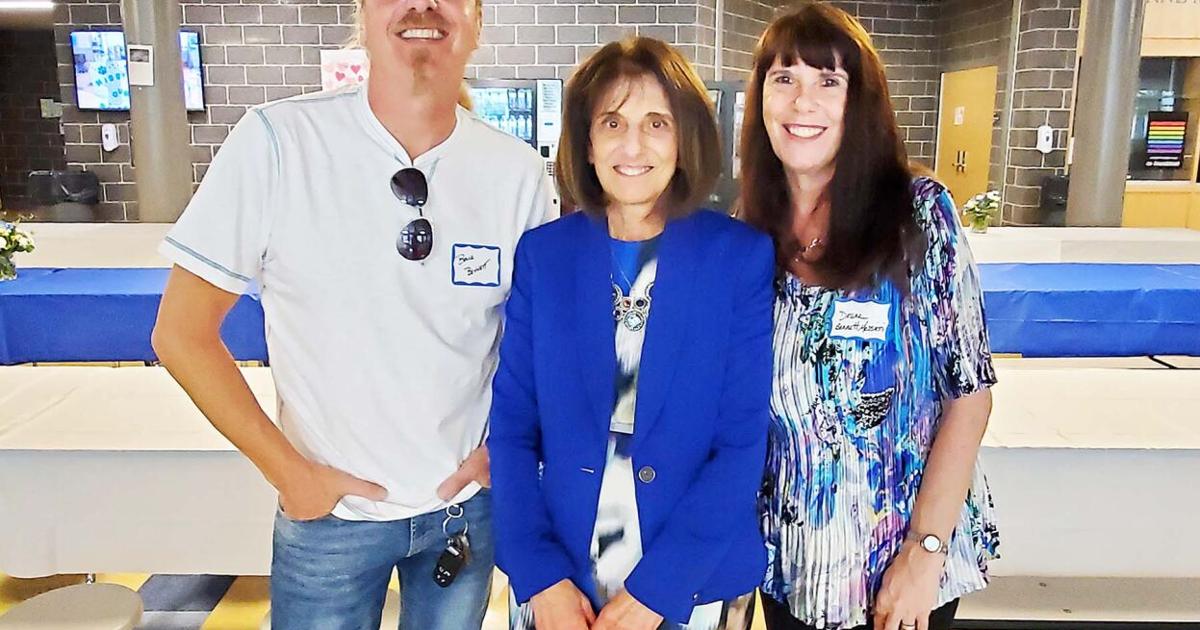 WILMINGTON — As she enters her retirement, Linda Peters, former math teacher and principal of Wilmington High School, leaves a legacy of kindness, encouragement and hard work over the past 48 years of service.
Dorene Messieri, a former student of Peters, sends a brief thank you to Peters for the impact she had on Messieri and his brother, Bruce.
"One of the reasons I'm so proud to say that I grew up in Wilmington and continued to have my roots there…Miss Peters was literally one of the best teachers I've ever had in school. My brother Bruce Bennett couldn't have said it better: thank you for making us the students we were and the adults we are today. You will always hold a very special place in our hearts."
Bennett, in his Facebook group post "I'm lucky – I grew up in Wilmington", talks about the impact Peters had on his life and career.
"45 years ago, the woman in the middle of this photo changed my life forever. Her name is Linda Peters and she was a math teacher at West Intermediate Jr High School in Wilmington, MA. She devoted her life to teaching and eventually became principal of Wilmington High School for the last nine years of her career. Today was her retirement party and I was so happy to see her and give her the biggest hug and thank you from the bottom of my heart. What did she ask? Good…
"It was 1977 and I was attending the Halloween dance on Friday night. The children all arrived on time, but not the musical DJ. To save the night, the mother of one of the students who was chaperoning ran home and retrieved her record player, speakers and as many records as she could pack, saved the night at best.
"The following week the school started planning the next Thanksgiving dance – the 'Turkey Trot Dance' with rumors that they were going to hire the same mother to come back and just play music for her.
"Now anyone who really knows me, and knew me at the time, knew that not only did I play guitar at a very young age, but my sister and I (Dorene Messieri) loved music and had the biggest collection We used to have disco lights, record players, speakers, black light posters and anything else you could think of to enhance the enjoyment of listening to music in a We even had a disco ball!(Just for those who know me as a studio engineer – yes, the same basement that eventually became Kashmir Recording Studio.)
"Our friend's mother who saved the Halloween dance was nice and helpful, but she didn't have as many records as Dorene and I did. So I thought if anyone could just 'play their records' , I said to myself "why not us?"
"So I went to the office and spoke to the manager, Mr Barrett. He said I needed to talk to Miss Peters, the school dance coordinator. She was not my teacher but taught math to my sister four years ago. Nervous, after school, I went to his classroom and knocked on the door. I remember shaking, I was so nervous. I introduced myself and reminded her that she had taught my sister math four years before and she remembered it. I complimented our friend's mom on the Halloween dance, but told Miss Peters that we'd love the chance to play OUR record collection.
"What did she do? She gave a 12-year-old and her 16-year-old sister consideration…and a chance.
She could have said no or made up an excuse, but instead Miss Peters gave me a list of tasks to audition for the job. I needed to get permission from the principal, set a date for the "audition", ask Mr. Lee, the school janitor, to stay late in the cafeteria so we could settle in and show him our configuration and our "stuff". Then, if we proved we could do it, we'd be paid $50 for the gig.
"We had a week to audition because the turkey trot dance was two weeks away. I can't tell you how many times I had to cycle to RadioShack that week and learn how to make my stereo system louder, and what the watts, ohms, impedance and flow of the signal. But I did. Audition day arrived and we put together the most extravagant system with flashing lights, strobe lights, disco ball, police beacons, color organs and basically everything available in the Sears catalog at that time. We wrapped the table with foil wrap to look cool.
"We created a presentation. She was blown away. And then she came on stage and saw our record collection. We asked her for requests and we got it all. Impossible to catch us. That's where I learned in life that you can never make a second first impression.
"Needless to say Dorene and I got the gig. She was 16 and knew how to drive and I was 12 with a guitar amplifier for the left speaker and a borrowed Heathkit bass amplifier for the right speaker, and a RadioShack microphone. All with virtually every disco light in the Sears catalog… We made this cafeteria look like a disco club. This led to my first experience as an entrepreneur.
"Eventually, Dorene and I DJed at all the schools in the immediate area. We've hosted hundreds of DJ events over the next 20 years. This knowledge of electronics eventually led me to build a recording studio, write songs, record my own bands as well as others. Simply a life full of entrepreneurship in the music business. During all this time, I was able to achieve my dream of playing in bands, being on stage and just enjoying playing and enjoying music. Thank you "Miss Peters" for being an excellent educator and student advocate. What a wonderful human being. Pay it forward.
Bennett was then part of the group Shot of Poison, which recently performed with Bret Michaels, for Jimmy Fallon and many others.
Additional information about the band can be found on their website, shotofpoison.com (http://shotofpoison.com/home.html).