Mathematical intervention with a world-class musician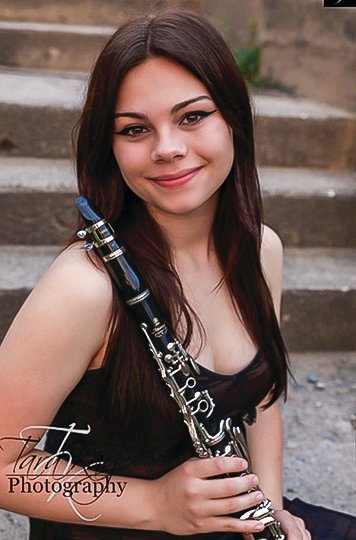 Rachel Brophy
ELY – Many years ago, in a small town in east-central Germany, a little girl named Chambriel Ridings was living on a military base where her father was stationed, and she was struggling with math. To strengthen his understanding of math, his teacher suggested he take up the recorder – that simple flute-like instrument that kids here in America all seem to pick up at some point in their elementary years.
Chambriel's mother, Jackie Ridings, was eager to help her daughter but didn't know where to get a recorder in Germany, so she contacted her mother-in-law in the United States who sent one to her granddaughter at Grafenwöhr.
"It sounds weird, but it worked," Jackie said. There was no way of knowing then that this was the start of something amazing.
Fast forward to 2015 when the army family was back from overseas and living in Ely. Chambriel's fifth-grade teacher, Darren Visser, noticed that Chambriel still struggled with math. He encouraged his family to seek additional help outside of school, so Chambriel could avoid a remedial study hall that would mean having to forgo attending a group.
It was Miss Mason's freshman year, and she encouraged Chambriel to try the clarinet. "I played Hot Cross Buns right away," Chambriel recalls. "I thought 'Oh that's easy to understand!'"
Chambriel continued to play the clarinet even as the family moved again, this time to Rolla, Missouri. Rolla's band was big enough that Chambriel had to try, but as soon as the band manager heard her play the scales, she said, "Oh my God! I need you."
Chambriel went on to serve as First District President three times for clarinet and also competed at the state level. Although she never took private clarinet lessons, her skills were developing rapidly. When the family later returned to Ely, Chambriel reunited with her former music teacher, Miss Mason, who was herself preparing to leave the state. With Miss Mason's encouragement and guidance, she auditioned for the state pageant at the end of her freshman year and was soon told she had made the cut just before Miss Mason left for graduate school in the state of Virginia.
Summer vacation arrived and Chambriel found herself without a music teacher or high school principal to help her figure out exactly how she was going to be able to perform at Concordia Moorhead College for the State Band Competition to be held from 1 to August 5.
This is where the village took matters into its own hands. Washington Elementary Principal Anne Oelke stepped in to oversee the district funding puzzle piece, while Miss Mason helped with paperwork over the phone and Mr. Kubiak (the new group teacher who, technically, didn't start his new job until August) was in communication. from where he was in Europe during the summer.
In early June, thanks to her state-qualifying ability, Chambriel was also invited to audition for the Honors Performance Series, an elite group "created to showcase internationally accomplished student performers by allowing them to study under conducting master conductors and performing in world-renowned venues.
In order to save $50 on the honorary performance series application fee, Chambriel had to submit her audition performance by July 5 to meet the early bird deadline. Chambriel trained non-stop to be ready, consuming much of the first half of her summer vacation. "I was leaving work and going back to my clarinet," she said. Chambriel was only able to meet Mr. Kubiak, who had just returned from Europe, once to get some final suggestions on how to improve for the audition before she had to send him off. Mr. Kubiak gave her some directions, which she worked on, then recorded herself playing the Rose Etude #10, and sent it off.
The registration period did not officially end until September 1, and applicants were to receive a notification if they had reached the next round on October 28. In the meantime, Chambriel prepared and performed at the state competition in early August. In September, she becomes the youngest member of the Mesabi Symphony Orchestra (MSO). On October 28, the day she and her family were anxiously awaiting news, Chambriel was busy in a dress rehearsal for an upcoming MSO performance. It was a day she will remember for a long time.
At 4 p.m., Jackie received the email that Chambriel had reached the next round and would be notified within 10-15 working days. Instead of taking days, however, news came just four hours later that Chambriel had been selected to perform at Carnegie Hall. A minute or two later, another email arrived announcing that she had also been selected to perform at the Sydney Opera House in Australia.
Chambriel's audition was in competition with ten thousand other pieces submitted for each performance. According to Marion Gomez, Musical Director of the Honors Performance Series, "Being selected for the Honors Performance Series is something every finalist should be extremely proud to have accomplished." notes Gomez. "We processed nearly 10,000 applications this year and selected the most talented student artists from around the world."
Chambriel said she found it hard to believe when she heard the news. "I am extremely excited to participate. It's a dream come true.
It is a dream, however, which comes at a high price and the family, with the help of Ely's English teacher Heather Cavalier, are once again appealing to the community for help, through a donation request and a Go Fund Me page.
Chambriel will represent Ely when she joins (per the press release) "approximately 500 other artists from 48 U.S. states, Bermuda, Canada, China and South Korea for a special performance at famed Carnegie Hall and the Opera House. of Sydney, both places that mark the pinnacle of musical achievement.The finalists will meet in New York and Sydney, where they will have the opportunity to learn from world-renowned conductors, work with other performers and a taste of New York and Sydney.The honorary performance will take place February 1-5, 2023 at Carnegie Hall and August 1-5, 2023 at the Sydney Opera House, and both are open to the public.
The cost of the trip to New York is approximately $5,500, including airfare and travel expenses. Chambriel raises funds to make this unique experience possible. Anyone interested in donating for this once-in-a-lifetime achievement can do so by stopping by Frandsen Bank to donate to "Chambriel Ridings" or by sending a check to the Honors Performance Series made out to Chambriel Ridings at address of the Ely school: 600 E Harvey, Ely, MN 55731, or online on the Go Fund Me page in Chambriel: https://gofund.me/f1861e70.
If you are interested, learn more about the program by visiting the website at www.honorsperformance.org.