Pat Kay played The Tipsy Cow The California native musician returned to play The Tipsy Cow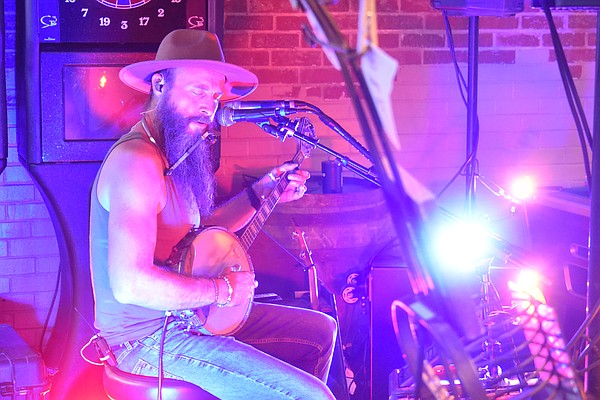 As a child, Pat Kay ate at Willy's Pizza with his family.
The California native and one-half of music duo The Kay Brothers returned to the former pizzeria, now home to steakhouse The Tipsy Cow, to play his signature "stompgrass" tunes in a free show on Friday.
On the Facebook event page, stompgrass was described as a type of bluegrass music where "…drums are not only encouraged, but required…"
Jordan Allen, owner of The Tipsy Cow and childhood friend of Pat Kay, said he played as a drummer for Bryan Kay, the other half of the Kay Brothers, in his boyhood band.
"We actually all played in the same music room under John Kay's (the brothers' dad) desk," Allen said.
In addition to being able to perform at a special venue, Pat Kay said Friday's show was part of "new territory".
"What I'm doing tonight is, in many ways, new territory," Pat Kay said Friday. "I've had a band forever, and over the past few years and largely based on the performance opportunities available during COVID, I've started doing solo shows. I think this is the first time that I'm playing a show in town without a band and that's just me."
It was also his first performance at The Tipsy Cow. As an unusual venue, Pat Kay said there was a lot of experimentation to get the show right.
"It's always interesting to play somewhere, more or less, (for) the first time," said Pat Kay. "It's not a traditional music venue. There's always some level of experimentation that goes into what time you play, where you play, the volume of your music and things like that. … But ultimately, when you're in a space like that – where there's a dining room side, a bar side, there are pool tables and a terrace, in a city of this size – you have a very wide audience of people who hang out and there's always some level of experimentation on how best to meet the listening needs of everyone there and I think (The Tipsy Cow) has a lot of potential for that .
The musician was also able to connect with people he hadn't seen in decades.
"It was really fantastic to see so many familiar faces again after so long," said Pat Kay.
He also said that some audience members were probably surprised to see his transformation from one genre to another.
"One of the things that interested me about that as well, about the experience of playing there was when I was living in California I had a rock band," Pat Kay said. . "And a lot of people who were there, a lot of them, hadn't seen me since then. And I have to imagine some of them were a little surprised to see me playing the banjo."
Pat Kay said he's been traveling to the northern Washington border for the past month, but most of his upcoming shows are in the Midwest. He will perform Thursday at The Mission in Jefferson City and travel to Kansas City for shows Friday and Saturday.
Pat Kay's musical career began when he started a band when he was "probably 13 or 14". Since then, her goal was to turn her love for music into a career. He continued to play music while working as a talent buyer for Frank Productions Concerts Live, which books talent for venues like The Blue Note in Colombia, as well as events like the annual Roots and Blues festival in Colombia. .
"We had a high school band here, and when I went to college I decided that if I could play music as an occupation – as a job instead of working in the library or something – I would be happy with what I had accomplished in my musical endeavours," Pat Kay said.
After 15 years, he resigned from his position at FPC Live in October 2021, allowing him to return to music full time. He said the experience had changed dramatically in those 15 years.
"It's a totally different experience now, as a 40-year-old man with a family and kids, (than) it was when I was in my early twenties," Pat Kay said. "Some things are harder, some things are easier. Overall, it seems to be a little bit easier because at this point in my life, it's my job. And I take it a lot more seriously than when I was at the start of my career." 20s. It's a lot of work and stuff like that to stay in shape and just to have the stamina to do this kind of show three, four, five nights in a row.
Allen, owner of The Tipsy Cow, said three upcoming shows are planned. Andrea Laray will be there on Friday, with Joker's Wild scheduled for September 9 and Concannon on October 21.
Pat Kay said he plans to return to California later this year for an as-yet-unannounced show at the Finke Theater — and possibly another show at The Tipsy Cow. In the meantime, he's grateful to have been given the opportunity to perform at the venue he frequented as a child – by a childhood friend.
"And, to that end, I'm grateful that Jordan gave me the opportunity to play there, so I had an excuse to come home and check it out," Pat Kay said. "I don't know how long it's been open, but I'm really proud of what he's done there."